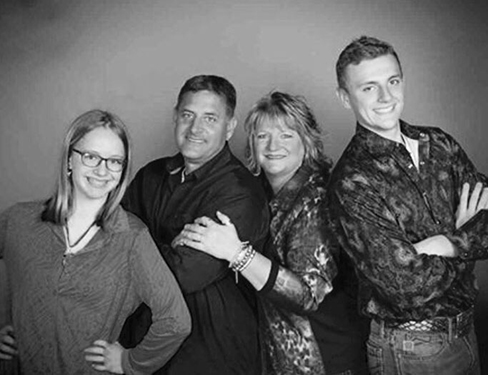 Todd, M.K., Ryan and Taylor Rae
The Franz ewe flock was started in the mid 50's with Southdowns. In 1960, the local FFA advisor initiated the purchase of a group of Hampshire's from Canada. Acquisition was difficult, as they ran into a ice storm during the trip. A car pulling a homemade "bumper hitch" on ice made it eventful.
Suffolk's were added in '67 and eventually replaced the Southdowns. The size of the flock and the sheep grew over the years with Dennis Franz at the Helm. In 1970, a major purchase was made. A partnership was formed with Darrell Anderson and Richard Roe. The purchase was the National Champion Suffolk ram at Chicago for a unheard of price of $3000.
In 1972, the first Sale Of Champions was held. Fourteen more of the successful events were held in southwestern MN. The sale became one of the premier Sheep sales in the country attracting large crowds from many states.
Until the early 80's Suffolks produced winning wethers as well as "fitted sheep." But in about 1984 that changed and different sires were used for each purpose. A traffic accident claimed Dennis in '87. After that incident, "Weather type" sheep became the main focus.